Comparing Otter Waiver vs EzWaiver
Stop overpaying for signed waivers. Enjoy freedom of only paying for what you use on Otter.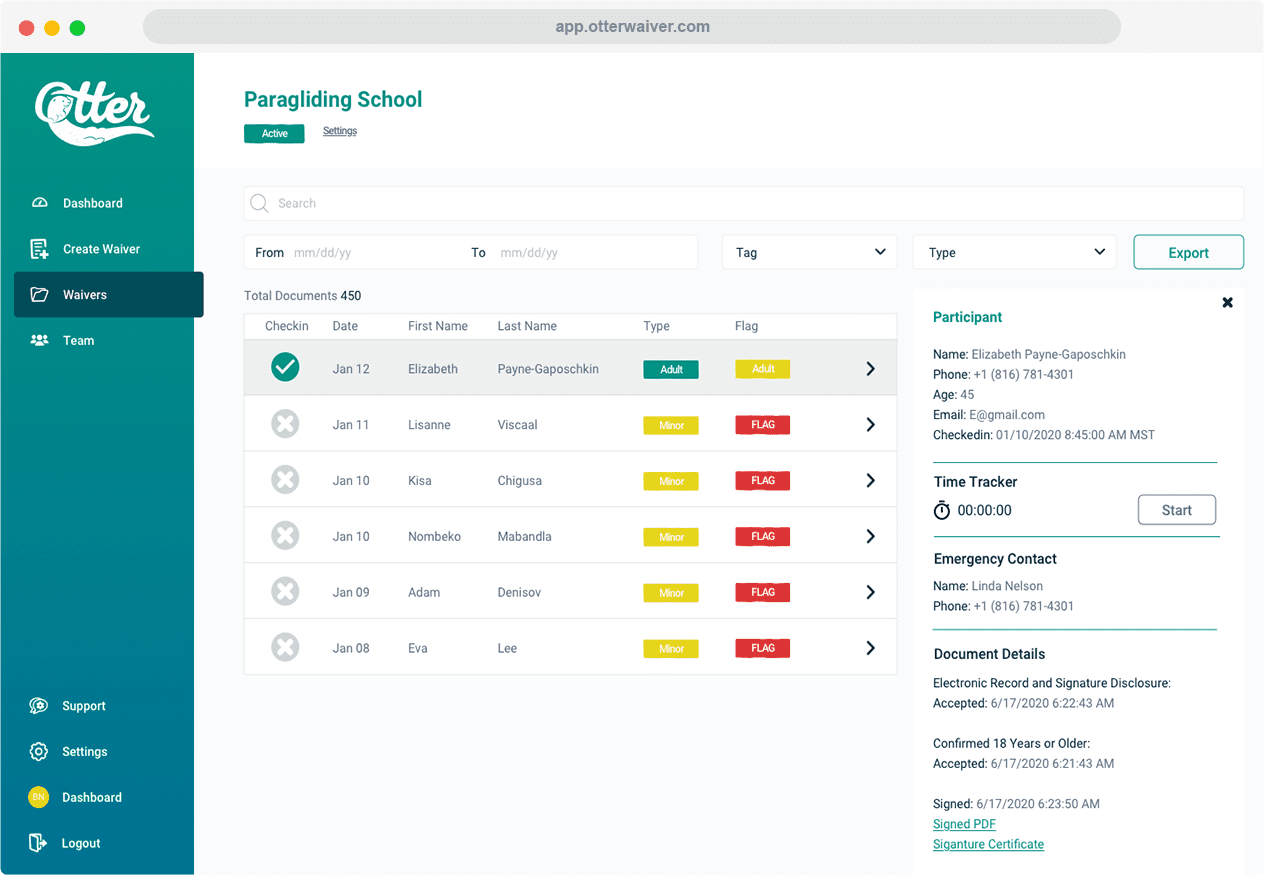 Otter Waiver vs EzWaiver
Otter can be 3 times cheaper on waiver signing.
Otter Waiver's simple pricing prevents you from dealing with high overages that you would experience using EzWaiver. EzWaiver, on average, is 3x more expensive than Otter without the same features. On average, you will save $500-$1000 a year by switching to Otter - plus another $500 in setup fees.
When it comes to signing fees, Otter prides itself on being 50-80% less expensive than printing, and passing those savings along to you is why we started the company. The price to use EzWaiver is not economical when you compare it to printing on paper. You are overpaying no matter the amount of waivers you have signed by participants. Otter is the more affordable option, proven in the simple chart below.
5,000 / waivers
$500.00
$1,250
10,000 / waivers
$1,000.00
$2,500
20,000 / waivers
$2,000.00
$4,600
30,000 / waivers
$3,000.00
$6,900
40,000 / waivers
$4,000.00
$9,200
Source:
EzWaiver Pricing Plans
Date:
01/14/2021
READY TO SEE OTTER IN ACTION?
Off-season and Waiver storage can be pricey with EzWaiver
All Plans include all features on Otter including federally compliance with electronic signature guidelines vs EzWaiver.
Save time, Save Money and get more features to make your operation run smoother
With Otter Waiver, there are no long-term contracts or ongoing subscription fees. Sign up for free and gain access to all features for only $0.10* per signed waiver credit. You can even set up auto refills when your account credits get low. The more credits you buy, the more you save! No Credit Card required
Off Season Storage under 10K
$0.20
$15 (0-30 waivers)
Off Season Storage under 50K
$1.00
$15 (0-30 waivers)
Off Season Storage under 200K
$4.00
$15 (0-30 waivers)
Off Season Storage under 400K
$8.00
$15 (0-30 waivers)
Otter vs EzWaiver monthly plans: Get more features for less money.
With Otter, all plans include all features - including federal compliance with electronic signature guidelines. With EzWaiver, your features are limited.
Certificate of authenticity? Required by ESIGN Act & UETA guidelines
Build unlimited waivers (if no how many>?)
$250-$500
Secure waiver signing site
Contactless signing (Link, QR Code)
Kiosk app (android / IOS)
Android
Build unlimited waiver templates
$250/event
Environmental impact report
EzWaiver: $250 Setup Fee
EzWaiver will charge you between $250-$500 to set up a waiver for you in their system. What would you do with an extra $500 in your pocket? Market your business?
Otters system is so easy to use you can follow our videos or instructions and get your account and waiver setup in less than 10 min. Still need help? Reach out to our sales team and they can walk you through the steps on video chat.
OtterWaiver: only pay for what you use and enjoy unlimited features
With Otter, the only minimum is $10 = 100 credits to buy to reload your account. So if you are an outfit serving 500 participants expect to pay for what you use which might only be $50 for the year. Otter's entire pricing structure is based on the number of waivers signed, not a locked in monthly subscription. Most businesses save close to $400-$1000 or more from switching to Otter Waiver.
Otter gives you the flexibility to grow your business as large as you want. Once you're ready to scale up your signing volume you can purchase in bulk or ask about our committed use plan.
READY TO SEE OTTER IN ACTION?
Testimonials
See why people switch to Otter
Otter Waiver has saved us time, not only on the guest piece of signing waivers but also on our staff. Our staff spent hours and hours going through paper waivers and files to find a previous waiver, and now we spend zero time finding a waiver.
Jessika Brown
YMCA of the Rockies
Otter Waiver is better than paper waivers. Now we have a database that keeps track of who signed what when. It's simply giving the guys a QR code or having a tablet out for them to go through and sign up before they go out and shoot or hunt. It makes life a lot easier for us.
Shawn Spindel
Hill'n Dale Club
We have been using Otter Waiver for the last few months at Astro Paragliding and The Free Kiting Clinic, it's been liberating. No more paper waivers, improved productivity on site all with an easy, intuitive phone application. I especially like the QR code.
Harrison Ruffin
Astro Paragliding