Comparing Otter Waiver vs WaiverKing
Stop overpaying for signed waivers. Enjoy freedom of only paying for what you use on Otter.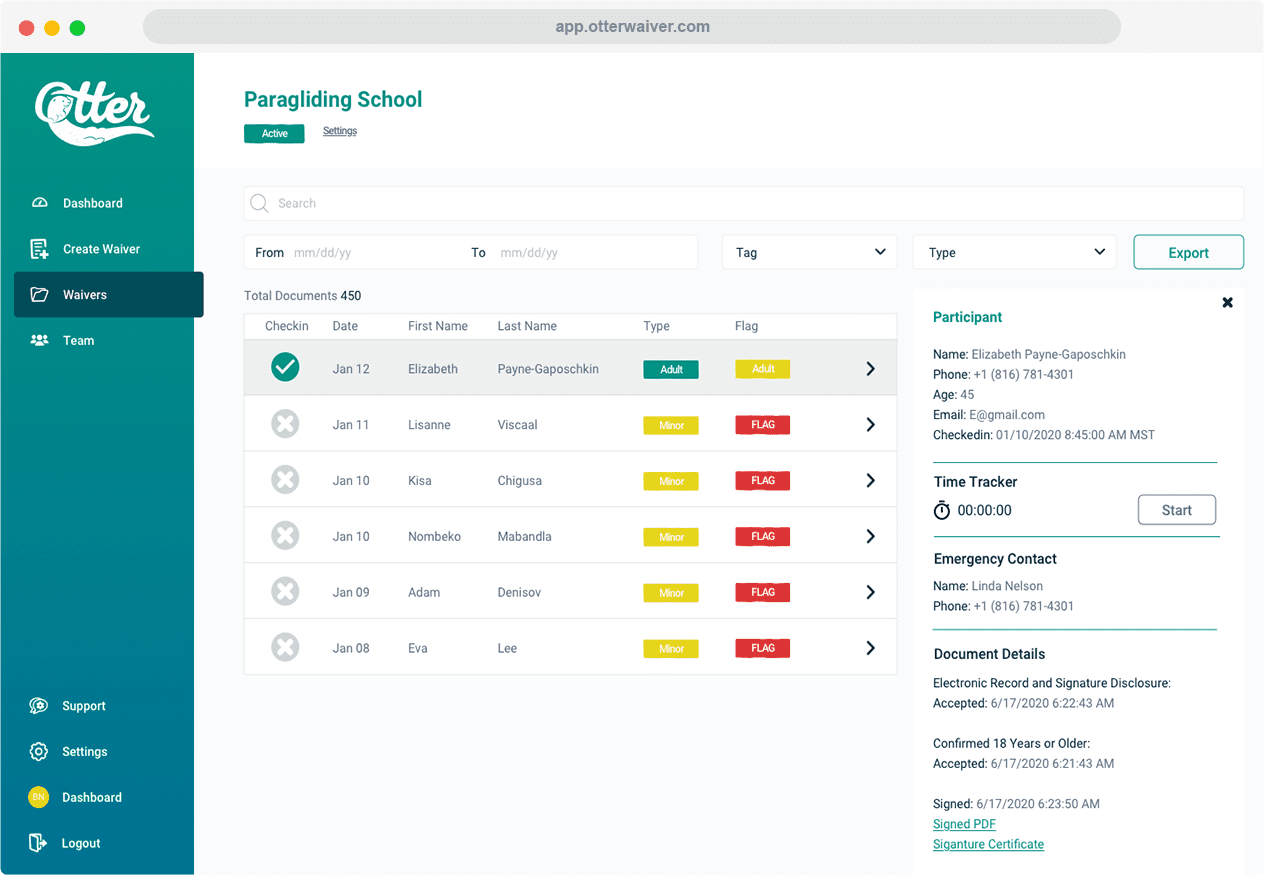 Otter Waiver vs WaiverKing
Don't pay more as you grow
Otter Waiver's simple pricing prevents you from high overages that many people incur using WaiverKing. WaiverKing is, on average, 3x more expensive than Otter - and without the same features. On average, users save between $500-$1000 a year by switching to Otter.
When it comes to monthly fees, chances are you are overpaying no matter the amount of waivers you have signed by participants. Otter is a more affordable option - just see the chart below.
100 waivers / year
$10.00
NA
360 waivers / year
$36.00
$180
1,200 waivers / year
$120.00
$600
2,400 waivers / year
$240.00
$1,020
3,600 waivers / year
$360.00
$1320
6,000 waivers / year
$600.00
$1,740
10,000 waivers / year
$1,000.00
NA
Source:
WaiverKing Pricing Plans.
Date:
01/14/2021
READY TO SEE OTTER IN ACTION?
Otter vs WaiverKing monthly plans: Get more features for less money.
Save time, save money, and get more features to make your operation run smoother.
With Otter Waiver, there are no long-term contracts or ongoing subscription fees. Sign up for free and gain access to all features for only $0.10* per signed waiver credit. You can even set up auto refills when your account credits get low. The more credits you buy, the more you save! No Credit Card required.
Certificate of authenticity? Required by ESIGN Act & UETA guidelines
Build unlimited waivers (if no how many>?)
Secure waiver signing site
Contactless signing (Link, QR Code)
Kiosk app (android / IOS)
Build unlimited waiver templates
Environmental impact report
OtterWaiver: only pay for what you use and enjoy unlimited features
With Otter, the only minimum is $10 = 100 credits to buy to reload your account. So if you are an outfit serving 500 participants expect to pay for what you use which might only be $50 for the year. Otter's entire pricing structure is based on the number of waivers signed, not a locked in monthly subscription. Most businesses save close to $400-$1000 or more from switching to Otter Waiver.
Otter gives you the flexibility to grow your business as large as you want. Once you're ready to scale up your signing volume you can purchase in bulk or ask about our committed use plan.
READY TO SEE OTTER IN ACTION?
Testimonials
See why people switch to Otter
Otter Waiver has saved us time, not only on the guest piece of signing waivers but also on our staff. Our staff spent hours and hours going through paper waivers and files to find a previous waiver, and now we spend zero time finding a waiver.
Jessika Brown
YMCA of the Rockies
My team LOVES Otter Waiver. It made the check in process for our customers quicker. With the QR code, Otter Waiver allowed us to go contactless which made our customers feel more secure during these crazy COVID times. I love that it also keeps our business legally covered with eSignature.
Erika klotz
The Selfie Room
"With Otter, our digital waivers are stored securely in the cloud, and marketing data is accessible from anywhere. Otter helped our business move to the future with convenience and ease."
Logan Tyler
Basecamp Ouray