Comparing Otter Waiver vs SmartWaiver
Stop overpaying for signed waivers. Enjoy freedom of only paying for what you use on Otter.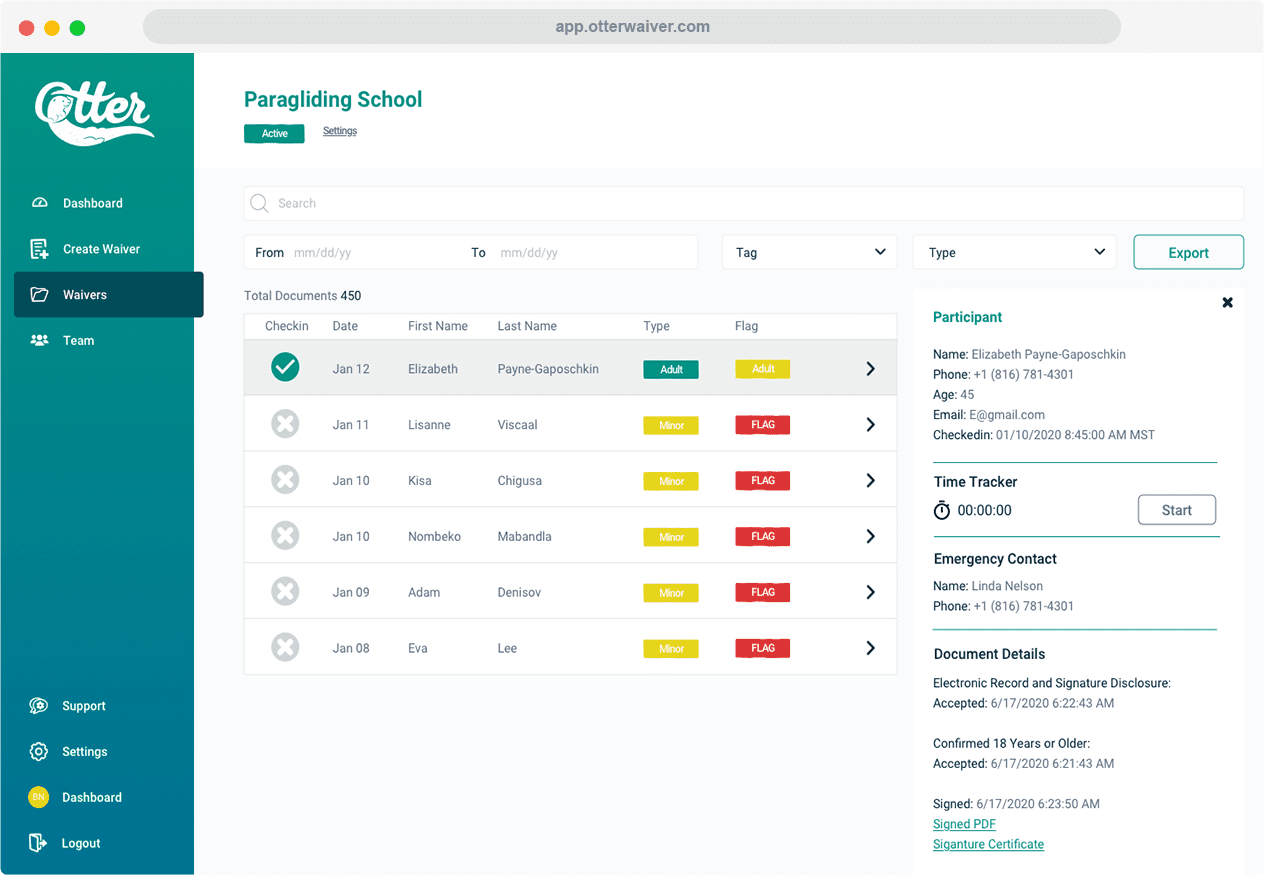 Otter Waiver vs SmartWaiver
Otter Waiver can be up to 12 times cheaper for businesses
If you're a low volume business with less than 500 participants a year, moving from Smartwaiver to Otter will generate serious savings.
When it comes to Smartwaiver's monthly fees, you are overpaying if you aren't hitting the max amount of waivers each month for 12 months straight. Even if you are, you're likely to find that Otter is the cheaper option. As a Smartwaiver alternative, Otter can come out to 12 times cheaper per month in certain cases. Take a look at some of these "waivers signed" scenarios.
up to 300 / yr
$30.00
$180-$360
up to 500 / yr
$50.00
$180-$360
up to 1,000 / yr
$100.00
$180-$360
up to 2,000 / yr
$200.00
$360-$540
up to 3,500 / yr
$350.00
$540-$1080
up to 5,000 / yr
$500.00
$1080
up to 10,000 / yr
$1,000.00
$16020
Source:
SmartWaiver Pricing Page
Date:
03/10/2021
READY TO SEE OTTER IN ACTION?
Off-season and Waiver storage can be pricey with SmartWaiver
Businesses tend to have off-seasons, slow seasons, and busy seasons - occasionally all within the same year. With Smartwaiver you have to constantly watch your numbers to know when to adjust your plan or go to a storage plan. Most business owners don't have time for that, and yet, if they don't make time they will end up overpaying.
Otter charges 3 credits for 1 gig of storage every month whether on or off. We keep your waivers securely stored and since we are pay-as-you-go, you never have to worry about switching plans. As you can see in our model, our credits get cheaper the more you store. Otter believes that the more you use, the more you should save.
Off Season Storage under 10K
$0.20
$5
Off Season Storage under 50K
$1.00
$5
Off Season Storage under 200K
$4.00
$5
Off Season Storage under 400K
$8.00
$5
Otter vs SmartWaiver monthly plans: Get more features for less money.
Save time, save money, and get more features to make your operation run smoother.
With Otter Waiver, there are no long-term contracts or ongoing subscription fees. Sign up for free and gain access to all of Otter's innovative features for only $0.10* per signed waiver credit. You can even set up auto refills when your account credits get low. The more credits you buy, the more you save! No Credit Card required
Certificate of authenticity? Required by ESIGN Act & UETA guidelines
Build unlimited waivers (if no how many>?)
NA
Secure waiver signing site
Contactless signing (Link, QR Code)
Kiosk app (android / IOS)
Build unlimited waiver templates
NA
Environmental impact report
SmartWaiver: the more waivers you have each month, the more you pay.
Smartwaiver's free plan is limited to one month. The moment you hit your max waivers for the month you will be charged a lot for overages or have to blance when to upgrade to the next plan. Smartwaiver's base plans are 4x more for any small company starting out — but keep in mind, the price is recalculated according to the number of waivers used as your business grows.
OtterWaiver: only pay for what you use and enjoy unlimited features
With Otter, the only minimum is $10 = 100 credits to buy to reload your account. So if you are an outfit serving 500 participants expect to pay for what you use which might only be $50 for the year. Otter's entire pricing structure is based on the number of waivers signed, not a locked in monthly subscription. Most businesses save close to $400-$1000 or more from switching to Otter Waiver.
Otter gives you the flexibility to grow your business as large as you want. Once you're ready to scale up your signing volume you can purchase in bulk or ask about our committed use plan.
READY TO SEE OTTER IN ACTION?
Testimonials
See why people switch to Otter
"With Otter, our digital waivers are stored securely in the cloud, and marketing data is accessible from anywhere. Otter helped our business move to the future with convenience and ease."
Logan Tyler
Basecamp Ouray
Otter Waiver has saved us time, not only on the guest piece of signing waivers but also on our staff. Our staff spent hours and hours going through paper waivers and files to find a previous waiver, and now we spend zero time finding a waiver.
Jessika Brown
YMCA of the Rockies
I am so grateful for the ease and security of Otter Waiver. It is easy and intuitive to set up, easy to send to clients, and easy for them to fill out. I work in a field where time is of the essence, and having them sign the waiver before they show up expedites the process and allows for greater overall enjoyment for everybody.
Ben White
White Cloud Adventures