Comparing Otter Waiver vs WaiverFile
Stop overpaying for signed waivers. Enjoy freedom of only paying for what you use on Otter.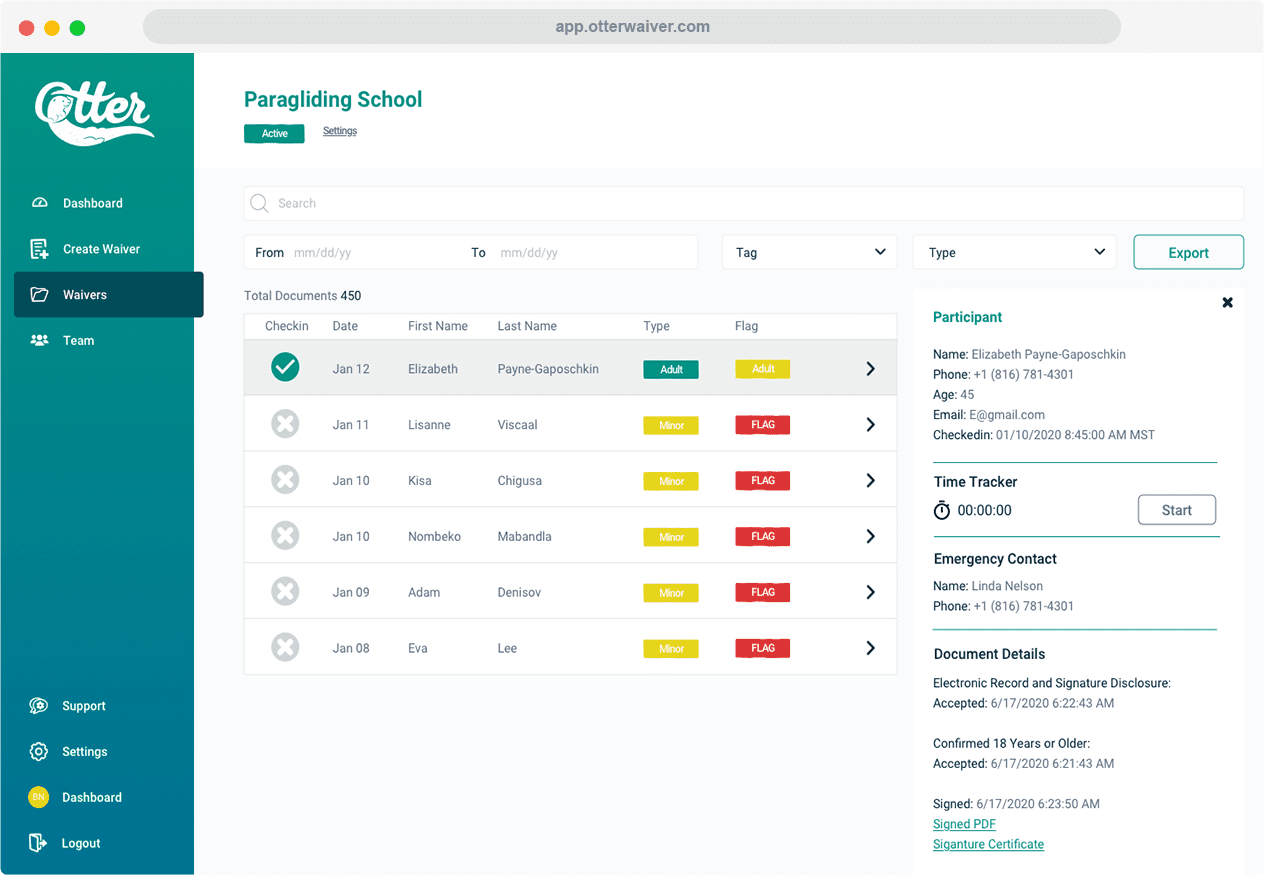 Otter Waiver vs WaiverFile
Otter Waiver makes pricing easy.
Otter Waiver's simple pricing prevents you from paying high overages that you'll encounter with WaiverFile. WaiverFile pricing is like playing Jenga: if you go over your plan, you are paying $0.50/ signed waiver, and if you are under you could be paying anywhere from $0.10-$0.50. If you switch plans mid-season during a high-use month, and forget to switch back, you'll be looking at higher costs.
When it comes to monthly fees, chances are you are overpaying if you aren't hitting the max amount of waivers each month for 12 months straight. Even if you are, you'll find Otter is the more affordable option. You would have to hit the max number of waivers each month in 2 of the scenarios below to get a better deal at WaiverFile. Already signed up with them? Don't worry, just show Otter your Growth or Premium plan with Waiver File and we will match it.
1,000 / year
$100.00
$180
1,800 / year
$180.00
$180
2,500 / year
$250.00
$468
4,800 / year
$480.00
$468
8,000 / year
$800.00
$828
10,000 / year
$1,000.00
$1,428
Source:
WaiverFile Pricing Plans
Date:
01/14/2021
READY TO SEE OTTER IN ACTION?
Off-season and Waiver storage can be pricey with WaiverFile
Every business has busy seasons and slow seasons. With WaiverFile, you have to consistently watch your numbers to know when to lower your plan, raise your plan, or switch to a storage plan. Who has time for that? People who forget to consistently keep an eye on usage end up paying more than they need to.
Otter charges 3 credits for 1 gig of storage every month whether on or off. We keep your waivers securely stored and since we are pay-as-you-go, you never need to worry about switching plans. As you can see in our model, our credits get cheaper the more you store. Otter's model means that the more you use, the more you save, resulting in prices that are 5-20x cheaper than WaiverFile
Off Season Storage under 10K
$0.20
$5 + $0.50/waiver
Off Season Storage under 50K
$1.00
$5 + $0.50/waiver
Off Season Storage under 200K
$4.00
$5 + $0.50/waiver
Off Season Storage under 400K
$8.00
$5 + $0.50/waiver
Otter vs WaiverFile monthly plans: Get more features for less money.
Save time, save money, and get more features to make your operation run smoother.
With Otter Waiver, there are no long-term contracts or ongoing subscription fees. Sign up for free and gain access to all of Otter's innovative features for only $0.10* per signed waiver credit. You can even set up auto refills when your account credits get low. The more credits you buy, the more you save! No credit card required.
Certificate of authenticity? Required by ESIGN Act & UETA guidelines
Build unlimited waivers (if no how many>?)
Secure waiver signing site
Contactless signing (Link, QR Code)
Kiosk app (android / IOS)
Build unlimited waiver templates
Environmental impact report
WaiverFile: the more waivers you have each month, the more you pay
WaiverFile's plans all have limits on usage. Go over your usage and pay $0.50 per waiver signed. Stay below your usage pay anywhere from $0.15-$0.40 per signed waiver. You would have to be an amazing juggler to balance your numbers each month perfectly.
WaiverFiles's base plans are cheap for anyone starting out — $15 a month for 150 waivers. But keep in mind that means your commitment for the year is $180. Not the best price when you are an outfit signing less than 1,000 waivers a year.
OtterWaiver: only pay for what you use and enjoy unlimited features
With Otter, the only minimum is $10 = 100 credits to buy to reload your account. So if you are an outfit serving 500 participants expect to pay for what you use which might only be $50 for the year. Otter's entire pricing structure is based on the number of waivers signed, not a locked in monthly subscription. Most businesses save close to $400-$1000 or more from switching to Otter Waiver.
Otter gives you the flexibility to grow your business as large as you want. Once you're ready to scale up your signing volume you can purchase in bulk or ask about our committed use plan.
READY TO SEE OTTER IN ACTION?
Testimonials
See why people switch to Otter
I am so grateful for the ease and security of Otter Waiver. It is easy and intuitive to set up, easy to send to clients, and easy for them to fill out. I work in a field where time is of the essence, and having them sign the waiver before they show up expedites the process and allows for greater overall enjoyment for everybody.
Ben White
White Cloud Adventures
We have been using paper waivers since we started National Cleanup Day because of the cost to go digital. Otter's Non-profit freemium version allows us to reduce our paper consumption with volunteer waivers and collect donations at the same. Win, Win.
Steve Jewett
National Cleanup Day
"With Otter, our digital waivers are stored securely in the cloud, and marketing data is accessible from anywhere. Otter helped our business move to the future with convenience and ease."
Logan Tyler
Basecamp Ouray