Comparing Otter Waiver vs WaiverSIgn
Stop overpaying for signed waivers. Enjoy freedom of only paying for what you use on Otter.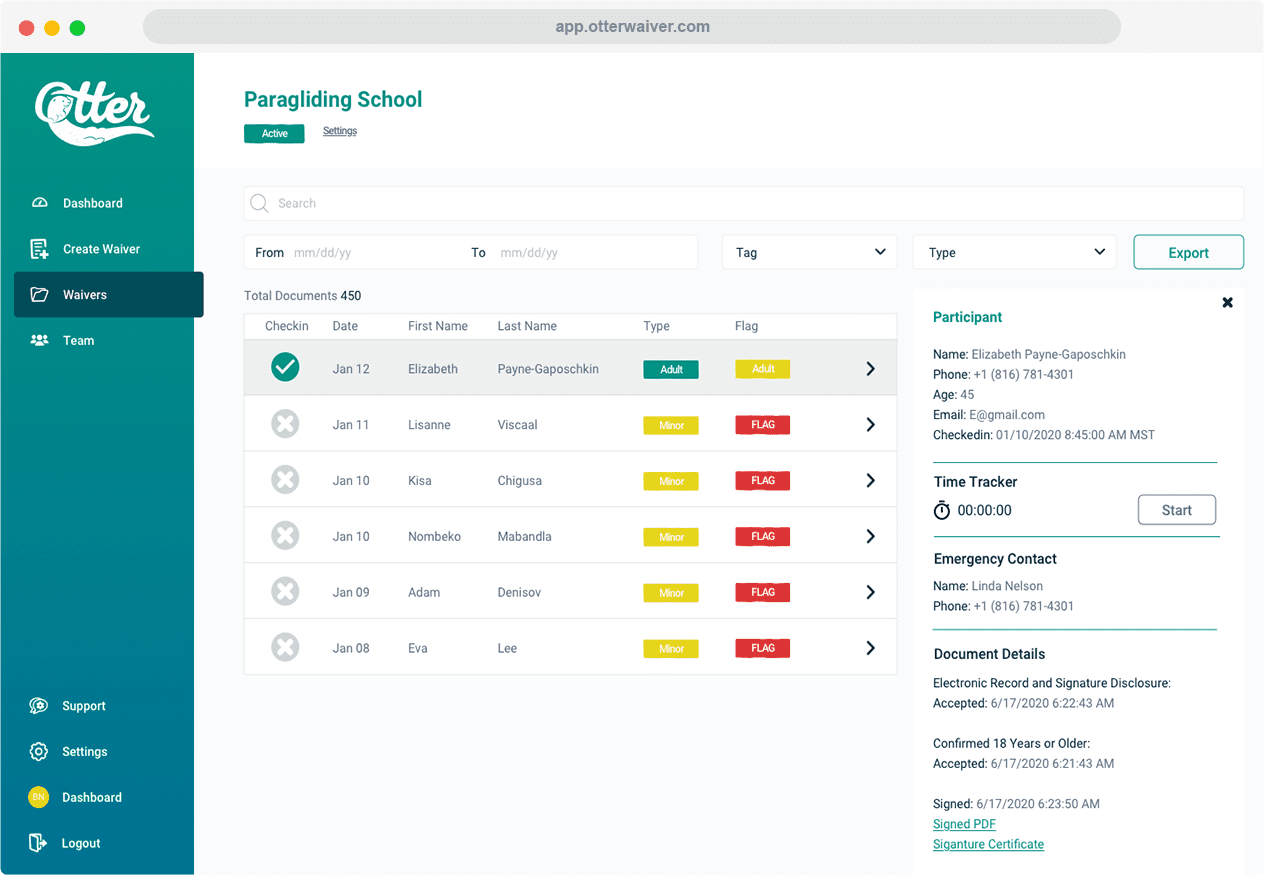 Otter Waiver vs WaiverSIgn
Otter Waiver makes pricing easy
Otter Waiver & Waiver Sign are similar in pricing at $0.10 per waiver, but Waiver Sign requires a $10 minimum and doesn't offer bulk rates until you get past 40,000 waivers per year.
"Low monthly cost of $10 plus 10 cents per signed digital waiver after the first 50 signed waivers each month." - WaiverSign
Monthly contracts are a real drag when it comes to maintaining a minimum, even in your off-season. Otter is a much more affordable option, and our bulk rates go down for every 10,000 waivers signed. See for yourself in the chart below.
1,000 / waivers
$100.00
$105
5,000 / waivers
$500.00
$560
10,000 / waivers
$1,000.00
$1000
20,000 / waivers
$2,000.00
$2,000
30,000 / waivers
$3,000.00
$3,000
40,000 / waivers
$4,000.00
$4,000
Source:
WaiverSign Pricing Plans.
Date:
01/14/2021
READY TO SEE OTTER IN ACTION?
Off-season and Waiver storage can be pricey with WaiverSIgn
Businesses tend to have off-seasons, slow seasons, and busy seasons - occasionally all within the same year. With WaiverSign you have to constantly watch your numbers to know when to adjust your plan or go to a storage plan. Most business owners don't have time for that, and yet, if they don't make time they will end up overpaying.
Otter charges 3 credits for 1 gig of storage every month whether on or off. We keep your waivers securely stored and since we are pay-as-you-go, you never have to worry about switching plans. As you can see in our model, our credits get cheaper the more you store. With Otter, the more you use, the more you save - including being 5-20x cheaper than WaiverSign.
Off Season Storage under 10K
$0.20
$10 + $0.10/waiver
Off Season Storage under 50K
$1.00
$10 + $0.10/waiver
Off Season Storage under 200K
$4.00
$10 + $0.10/waiver
Off Season Storage under 400K
$8.00
$10 + $0.10/waiver
Otter vs WaiverSIgn monthly plans: Get more features for less money.
Save time, save money, and get more features to make your operation run smoother.
With Otter Waiver, there are no long-term contracts or ongoing subscription fees. Sign up for free and gain access to all of Otter's innovative features for only $0.10* per signed waiver credit. You can even set up auto refills when your account credits get low. The more credits you buy, the more you save! No Credit Card required
Certificate of authenticity? Required by ESIGN Act & UETA guidelines
Build unlimited waivers (if no how many>?)
Secure waiver signing site
Contactless signing (Link, QR Code)
Kiosk app (android / IOS)
Build unlimited waiver templates
Environmental impact report
OtterWaiver: only pay for what you use and enjoy unlimited features
With Otter, the only minimum is $10 = 100 credits to buy to reload your account. So if you are an outfit serving 500 participants expect to pay for what you use which might only be $50 for the year. Otter's entire pricing structure is based on the number of waivers signed, not a locked in monthly subscription. Most businesses save close to $400-$1000 or more from switching to Otter Waiver.
Otter gives you the flexibility to grow your business as large as you want. Once you're ready to scale up your signing volume you can purchase in bulk or ask about our committed use plan.
READY TO SEE OTTER IN ACTION?
Testimonials
See why people switch to Otter
I am so grateful for the ease and security of Otter Waiver. It is easy and intuitive to set up, easy to send to clients, and easy for them to fill out. I work in a field where time is of the essence, and having them sign the waiver before they show up expedites the process and allows for greater overall enjoyment for everybody.
Ben White
White Cloud Adventures
"With Otter, our digital waivers are stored securely in the cloud, and marketing data is accessible from anywhere. Otter helped our business move to the future with convenience and ease."
Logan Tyler
Basecamp Ouray
Otter Waiver has saved us time, not only on the guest piece of signing waivers but also on our staff. Our staff spent hours and hours going through paper waivers and files to find a previous waiver, and now we spend zero time finding a waiver.
Jessika Brown
YMCA of the Rockies