Upload your waiver & collect eSignatures
Check in participants faster with legally binding eSignatures on Otter Waiver.

Save Time
Upload your digital waiver in minutes
Otter Waiver delivers a quick and easy digital waiver signing experience that your staff and participants will appreciate. Inspired by outdoor outfits and guides in Colorado, Otter Waiver was built to meet the needs of outdoor companies.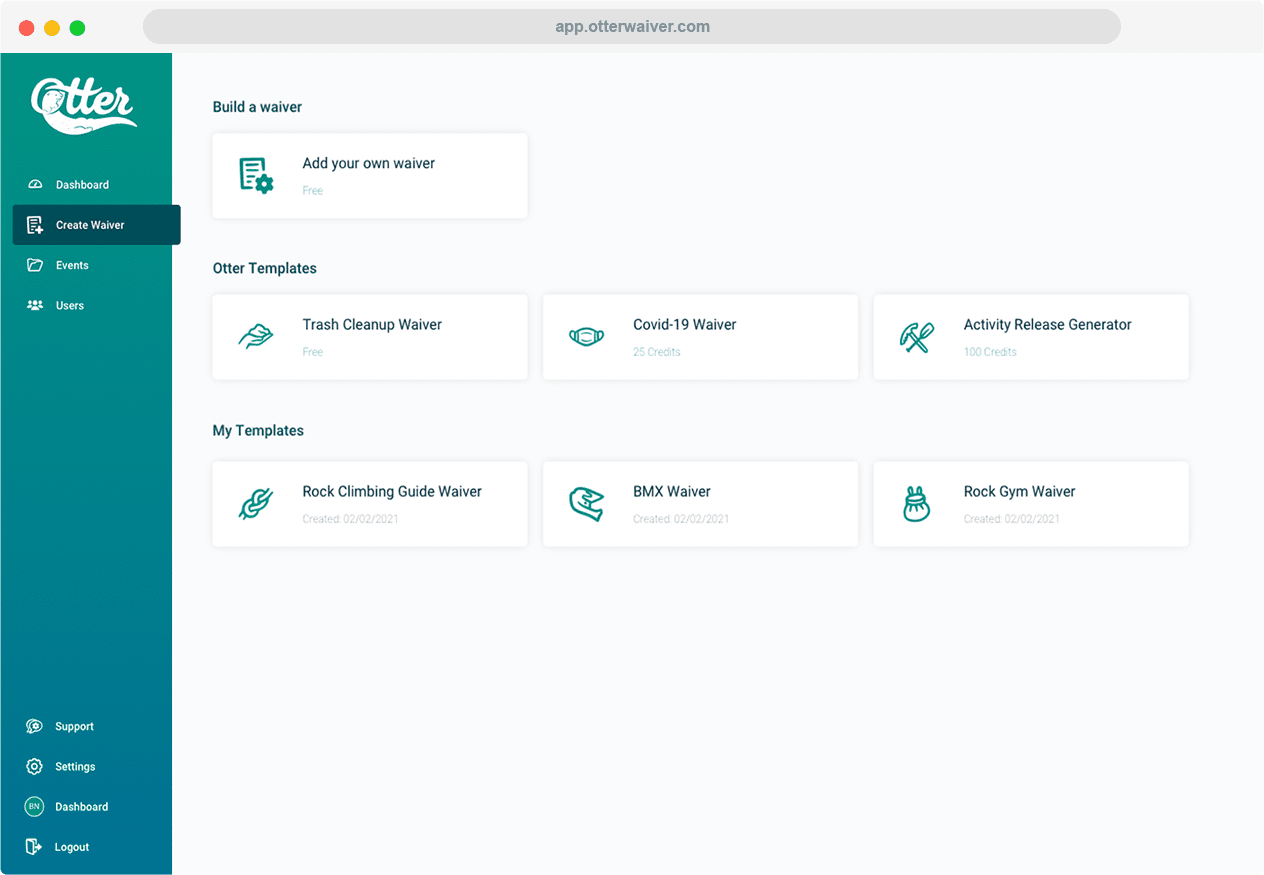 Collect Electronic Signatures
Get your digital waiver signed on any device
Participants can e-sign their online liability waiver from a computer, tablet or mobile device. And you can rest assured Otter Waiver follows legal compliances with Federal and State laws for electronic signature authentication.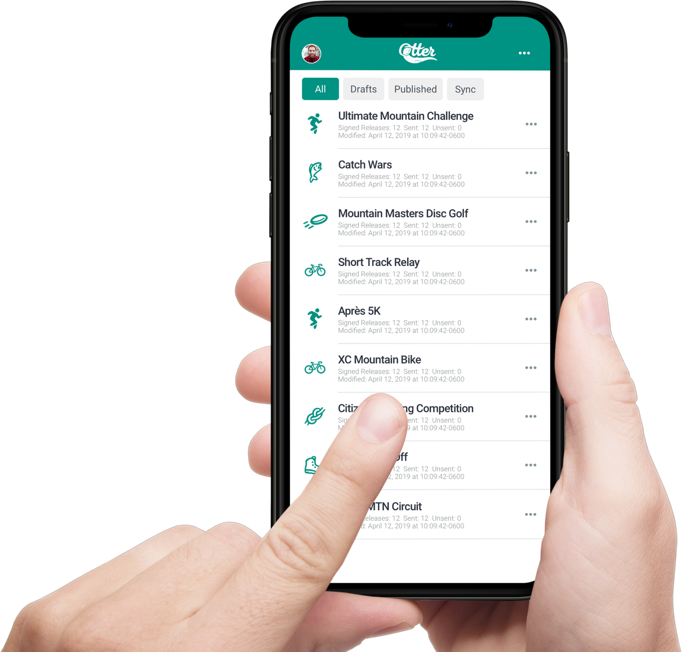 Save Time
Make check-in a breeze with Otter
You'll eliminate long lines with our speedy QR-based technology. You can check in participants and verify their waiver is signed via the Otter event folder or Kiosk app.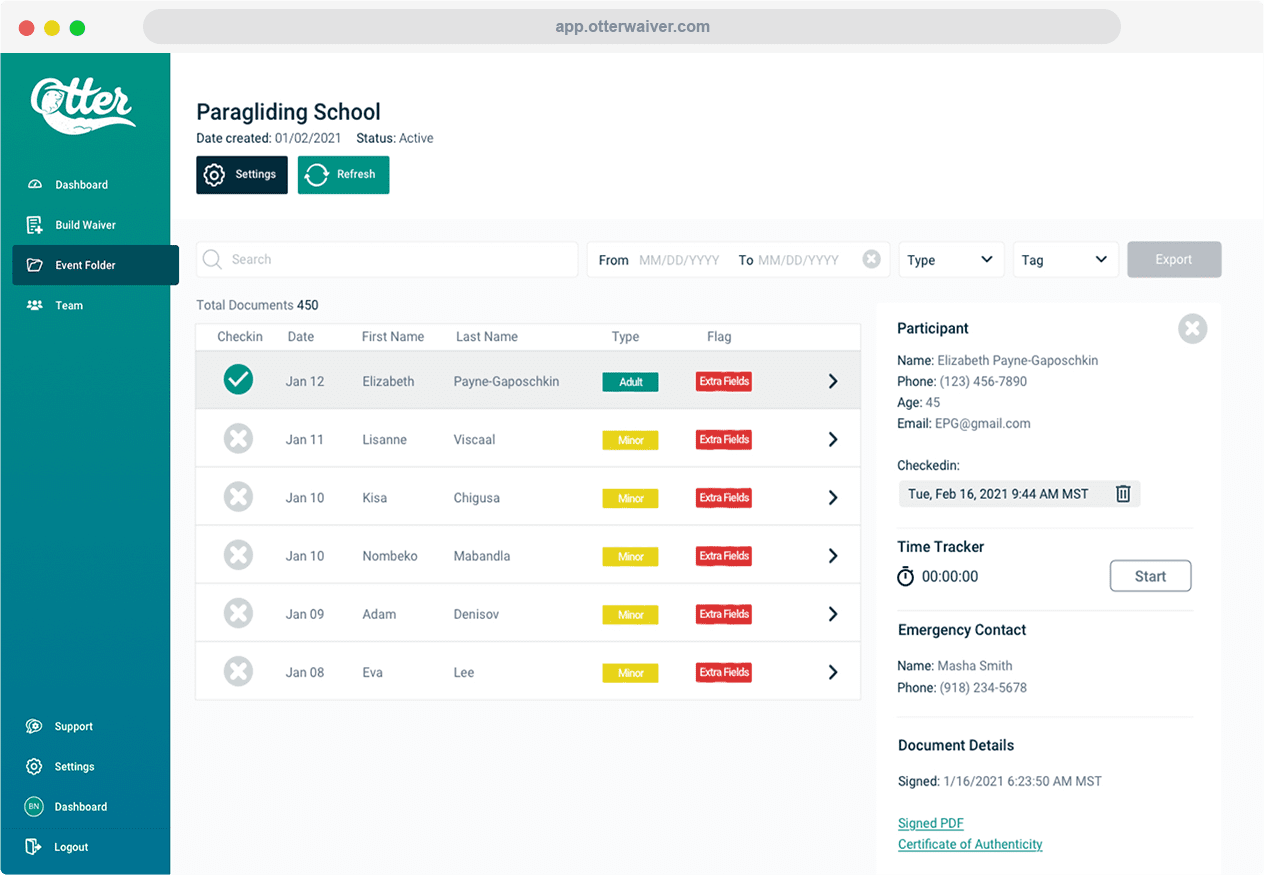 Save Money
Otter Waiver costs $0.10 or less per signed online waiver!
Pay-Per-Use Pricing
Flexible and fair pricing
With Otter Waiver, we got options that suit any size of business. Sign-up for a 14-day trial and be granted access to all of our optimal features. You only pay for each signed waiver. Pay $0.05–$0.10 per signed waiver. The more you buy, the more you save!
*3 credits = 1GB storage space. Typically 1GB = 15,000 credits based on bulk discounts.
Give Back
One tree saved, one tree planted
Did you know that to date, 46% of the world's forests have been destroyed? Otter Waiver wants to help by converting the outdoor industry from using paper waivers to going digital. We are committed to combating deforestation by not only reducing paper use but also through our partnership with the non-profit One Tree Planted.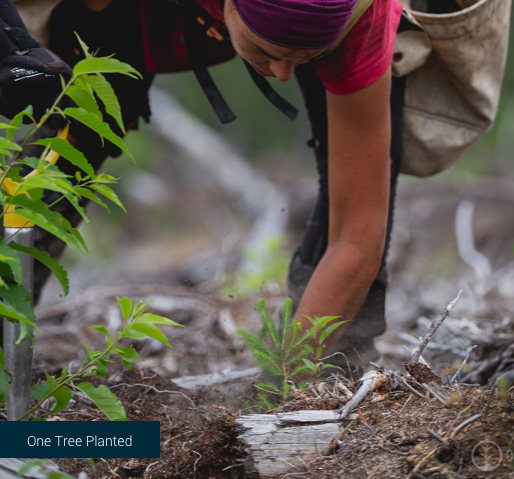 Testimonials
See why people switch to Otter
Jessica Brown
YMCA of the Rockies
"
Otter Waiver has saved us time, not only on the guest piece of signing waivers but also on our staff. Our staff spent hours and hours going through paper waivers and files to find a previous waiver, and now we spend zero time finding a waiver.
"
Harrison Ruffin
Astro Paragliding
"We have been using Otter Waiver for the last few months at Astro Paragliding and The Free Kiting Clinic, it's been liberating. No more paper waivers, improved productivity on site all with an easy, intuitive phone application. I especially like the QR code."
Ben White
White Cloud Adventures
"I am so grateful for the ease and security of Otter Waiver. It is easy and intuitive to set up, easy to send to clients, and easy for them to fill out. I work in a field where time is of the essence, and having them sign the waiver before they show up expedites the process and allows for greater overall enjoyment for everybody."
Industry Blog
Keep up to date