OtterWaiver has teamed up with the US Concealed Carry Association (USCCA) to offer an exclusive partnership that benefits shooting ranges. This collaboration allows ranges to provide valuable resources to their customers after they sign a waiver. Plus, it's a money-making opportunity for you, thanks to a lead generation kickback from the USCCA.
Who Are They?

USCCA: Empowering Responsible Americans
The US Concealed Carry Association (USCCA) focuses on three core areas: lifesaving education, expert-led training, and access to self-defense liability insurance. Their goal is to prepare individuals for real-world situations that require self-defense skills.
OtterWaiver: Streamlining the Outdoor Industry
OtterWaiver specializes in digital waivers and participant management for the outdoor industry. The platform allows for quick waiver creation and signing, secure data storage, and even contributes to environmental sustainability by reducing paper use.
How It Works: A Step-by-Step Guide to the Partnership
Sign Up with OtterWaiver: If your shooting range isn't already using OtterWaiver, the first step is to sign up.
Become a USCCA Partner: To take advantage of the exclusive benefits, your range must be an official USCCA partner.
Activate the Plugin: After setting up your waiver on OtterWaiver, activate the USCCA plugin within the platform.
Select Resources: Choose from a variety of valuable resources that you'd like to offer your customers. These can range from print-at-home drills to child safety guides.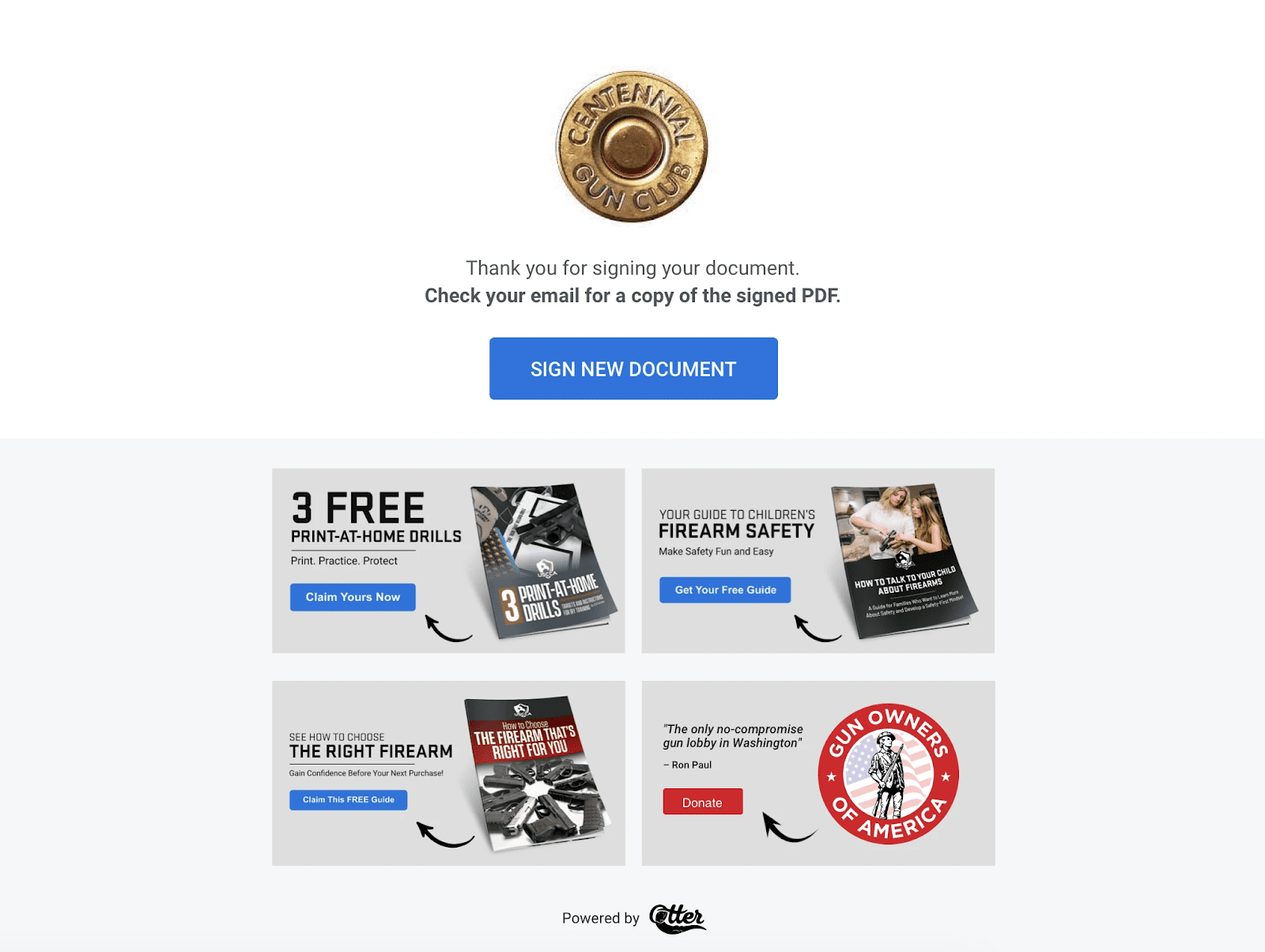 Customer Signs Waiver: When customers come to your range, they'll sign the digital waiver through OtterWaiver.
Access to Resources: After signing, the customer can access your selected free resources.
Earn Commission: Each time a customer accesses these resources, you earn a commission or kickback from the USCCA if the signee's email is new to the USCCA database.
Track and Manage: Use OtterWaiver's platform to track customer data and manage your earnings from the USCCA kickbacks.
Why You Should Care: Tangible Benefits for Your Shooting Range
Boost Customer Engagement
Offering USCCA's valuable resources isn't just a nice gesture; it's a way to deepen your customer relationship. These resources can help them become more skilled and knowledgeable, making them more likely to return to your range.
New Revenue Stream
The commission you earn from the USCCA is more than just pocket change; it's a consistent revenue stream that requires minimal effort. Essentially, you're making money while providing added value to your customers.
Simplified Operations
OtterWaiver's digital waiver system streamlines the check-in process, saving time and reducing operational hassles. Their robust data management features make tracking customer engagement and earnings from the USCCA partnership easy.
Environmental Impact
By going digital with OtterWaiver, you're also making a positive environmental impact by reducing paper waste. It's a small but meaningful way to contribute to sustainability.
Take the Next Step
Ready to level up your shooting range business? Consider becoming an official partner with USCCA and using OtterWaiver's plugin. It's a win-win situation that offers both value and revenue.