Life During a Pandemic
One year ago, I was pumping up rafts, handing out life jackets, and greeting dozens of strangers every day. After kicking off the summer with a Memorial Day camping escape, I began the season as a raft guide that would prove to be crowded and bountiful. It was time to spend all of my days outside, whether that be at work, on a weekend getaway, or just enjoying the sun on a friend's front porch.
That was a year ago… and look at us now. Memorial Day came and went, and while thousands of people enjoyed their weekend from a highly sought-after camp spot, the fact remains that it is a strange time to be outdoors. Our lives have changed over the past four months in ways that were almost unimaginable a year ago. Consequently, no concerts are there, sporting events are on hiatus, avoiding gatherings, and outside time has been lost. The coronavirus pandemic has forced us inward.
For months we have isolated ourselves from cherished people, places and activities. Now, our mobile range restricted and reduced to just a handful of miles surrounding our homes. For many, the structure of time has dissipated as the monotony of these "quaran-times" seeps in to every facet of our lives. We have learned to live in these new realities, but our evolution shouldn't stop at the first sign of reopening. We now have an opportunity to reassess our standard practices and make changes for the sake of health and sustainability. For the outdoor industry, a crucial first step is to shift to digital waivers.
Safely Returning Outside
Months of isolation and uncertainty have made outdoor adventures all the more appealing. Everyone deserves the opportunity to be an explorer, to find joy derived from unexpected encounters, and experience the bliss of solitude. Everyone deserves to taste the sweet, fresh air of an après ski evening, or to feel the adrenaline of thrashing through a class V rapid. It is time to creep back out there, but proceed with caution. What kind of world would this be if not for adventure? Not just for full-time ski bums and Red Bull athletes, but for everyone. Adventure guiding companies provide these opportunities. From expert fly fishing lessons to beginner hiking guides, they bring adventure to anyone willing to find it.
However, like countless other small businesses across the country, these companies must adapt to survive. The global pandemic has ushered in new sets of safety precautions that have the ability to save lives and permanently alter behavioral customs if executed with diligence. The illustrious Dr. Fauci has suggested that the handshake should disappear forever. This is a strange notion, yet it is entirely reasonable after enduring these strange times. For guiding companies to operate in 2020 and beyond, they will have to adhere to all these precautions, and then some. As a result, social distancing enforced, employee and guest temperatures checked routinely, and equipment sanitized vigorously. Yes, Dr. Fauci, there will be no handshakes. We now know the risks of person to person contact, and even transmission through touching inanimate objects, but what else are we touching?… Waivers.
The Problem Today
Aha, there it is. Liability waivers are an absolute must for all guiding and outdoor volunteering services. Far more often than to avoid legal action, these waivers help to access emergency contact information in case of unseen events. It often goes unnoticed, but imagine the trail of germs that these waivers are creating. For each trip, multiple waivers are typically sent from office employee to guide, then guide to the guest, and then right back up the ladder. There has always been a reason to switch to digital waivers, but now, it is absolutely imperative during our current health crisis.
The Problems Tomorrow
Beyond human health risks, physical paper waivers pose a major problem to the health of our environment. Every year, the U.S. cuts down 17 million trees for the production of printing and writing paper. Paper accounts for 40% or the world's commercially cut timber and is among the greatest players in global deforestation. This, in turn, leads to increased greenhouse gas emissions, loss of habitat, soil erosion, and the degradation of natural ecosystems. Trees absorb carbon dioxide and are perhaps the best tool we have to combat climate change, but when cut, carbon dioxide and other greenhouse gases released into the atmosphere, reversing positive effects. The disruption and destruction of our forests account for roughly 10% of global climate change, as per the WWF.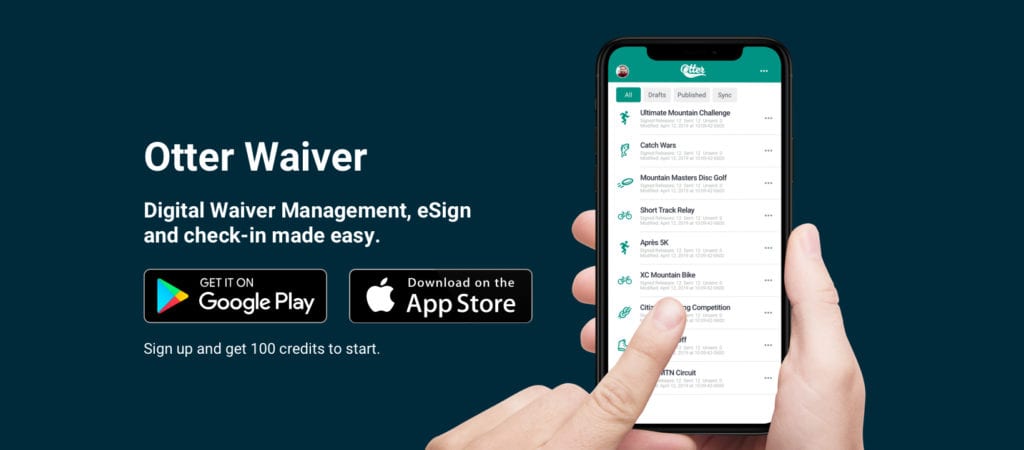 Digital seems like the obvious choice, right? Unfortunately, there are several barriers that stand in the way. Most guiding companies are small operations that only see a few hundred guests per year, and simply cannot afford monthly fees from e-signature services that end up costing hundreds in a 12 month span. Also, the very nature of the guiding industry implies that trips are operating in locations without reliable Wi-Fi connection. What if a guest hasn't signed a waiver but the group is already miles off the grid? Even with the high fees, there would be additional charges in updating waivers to stay current on legal changes.
This article is not for the purpose of outlining all things frustrating, but to offer solutions. Otter Waiver, a digital platform for e-signatures and participant liability management that is specifically tailored to the outdoor space, is that solution. Otter features an offline signing kiosk where waivers can be signed and stored on a digital device, even without internet access.
Cost-Effective
Otter Waiver is affordable, by only paying for what you need, and bypassing monthly fees, making it a cheaper option than physical paper. No more overspending on paper, ink, pens and storage. To top it all off, Otter is committed to reducing global levels of deforestation. An average tree produces 8,333 sheets of paper, and a standard waiver requires two of those sheets. For every tree a company saves (4,167 digital waivers signed), a tree will be planted in said company's name. Above all else, Otter presents a viable and affordable way to preserve the health of our planet and of humanity during a time of health crisis. It is an absolute "no brainer."
Time For Change
As we continue to regain a sense of normalcy by returning to the outdoors, we head into uncharted waters. Very few living people have experienced a global event of this magnitude and with such widespread consequences. The truth is that no one can be sure where we are going, but this great tragedy has given rise to a great opportunity. We got the time and distance from normalcy in which we can evaluate the state of our living, the health of our world, and the sustainability of our practices. The response to these evaluations lies within our actions rather than our words. Again, It is time to creep back outside but proceed with caution. It is time to manage the health of our community with intensity. It is time to go completely digital and to start with Digital Waivers and Otter Waiver.