E-signatures primarily benefit three types of people: the tech-savvy, the easy-going, and the natural tree-hugger inside all of us. Both businesses and consumers enjoy E-Signatures (digital contracts signed virtually instead of via paper) as a way of saving paper and making the signing process less time-consuming. This technology helps businesses and customers alike with a secure, painless, and economical method of signing documents.
20 years ago, in the same galaxy, we call home… there were digital signature laws, allowing sign more and more contracts without ever having to pick up a pen.
After this act, tech companies have invented incredible advancements in technology such as tablets and smartphones.
Not only do digital signatures save paper; they also save time and money for a lot of businesses. From water parks to tour guides, business is not official unless sign on the papers. With popular digital signing tools all over the internet, small businesses are able to have online documents signed incredibly fast while remaining safely stored and protected.
And as we all know — a digital file or a login password is much easier to store and keep track of than a stack of papers.
More and more businesses are moving towards using E-signature and electronic waiver service providers to increase their ease of use and security., and more importantly, their customer's ease of use and security. Instead of having many pages in front of individuals with numerous areas to sign, digital signatures allow customers to sign everything without a single paper cut.
The Legalities of Electronic Signatures
When it comes to the legal side of doing business with E-Signatures, there are two acts that you need to be aware of and four requirements for each of them.
ESIGN Act (Electronic Signatures In Global and National Commerce). Do you also suspect the acronym wasn't coincidental? Signed in 2000, this act is a federal act that has authority and application in all 50 US States.
UETA (Uniform Electronic Transactions Act). Originally signed in 1999 by 47 states. This act is adopted on a state by state basis — not all states cared about it at first.
The UETA was a precursor to the ESIGN Act — the difference is that UETA is there if both parties consent to an agreement that the electronic signatures are correct, while the ESIGN Act considers electronic just as valid and does not require E-signature approval.
How to ensure that your documents are legally compliant in the United States
Intent
Electronic signatures, like traditional wet ink signatures, are valid only if each party wants to sign.
Consent 
In order to be valid, each of the parties in a transaction must consent to conduct business electronically. To confirm consent, organizations need to analyze the circumstances of the interaction. Note that consumers also require additional considerations. You can use electronic records in transactions with a consumer only in following cases-
Received UETA Consumer Consent Disclosures
Affirmed their agreement to use electronic records for the transaction
Never withdrawn such consent
Association of signature with the record
Under the ESIGN Act and the UETA, an electronic signature is qualified as valid only when the system capture the transaction has kept a record of how exactly the signature was created. The system might also generate a textual or graphic statement proving that the transaction executed using an electronic signature. Otter Waiver's Certificate of Authenticity provides 30 process points.
Record 
The electronic signature must be reproducible by both parties. Accurate retention and verification is an important point of ensuring credibility and authenticity.
Back in 2000, electronic tablets and touch screen phones were not as common or available as they are now. And as technology becomes more efficient at creating virtual authentication, we will see these improvements in E-Signatures.
Other Electronic Signature Laws
Illinois –Law 5 ILCS 175/1-101
New York – Electronic Signatures and Records Act (ESRA)
Illinois' Electronic Signature Law 5 ILCS 175/1-101 was set in 1999. Under this order, some types of E-Signatures are more secure than others. There are a few factors that define E-Signatures, such as:
Both of the signing parties agree on the 'secure nature' of their signature
Applied by both parties in a manner that can be verified
The signature should be done in a manner that will be commercially reasonable
All parties approach the transaction in the good-faith
The Electronic Signatures and Records Act (ESRA) was set in 2000. This law dictates that electronic signatures are as legally binding as wet signatures in the state of New York. Those who wish to use E-Signatures under the ambit of ESRA can use the best practices guide they've developed.
Finding the Right Waiver Software
When it comes to knowing which E-Signature service is best for you, look no further than Otter Waiver. 90% of all waiver software is not compliant with ESIGN Act UETA. Otter Waiver is the only service that complies, providing increased peace of mind.
The second thing you want to consider is where your money is going. Let's say you need to create a waiver for your kayaking rental service and a simple document for kayakers to sign. In a good month, you get about 500 total signatures, while in an off-season, none. You can calculate your average for the year and get a plan with roll-over credits or downgrade to storage for the off-season. Both save you money while storing your documents safely.
If you have never used electronic signature tools for creating waivers, you will want to start with an option that doesn't charge you monthly and isn't trying to make money from you even when you are not using their service.
Services like Otter Waiver allow you to build clean and simple waivers in minutes. After that, it is incredibly easy to share with a simple QR Code, custom link and more. Sign up today and get 100 free credits when you start an account on Otter Waiver.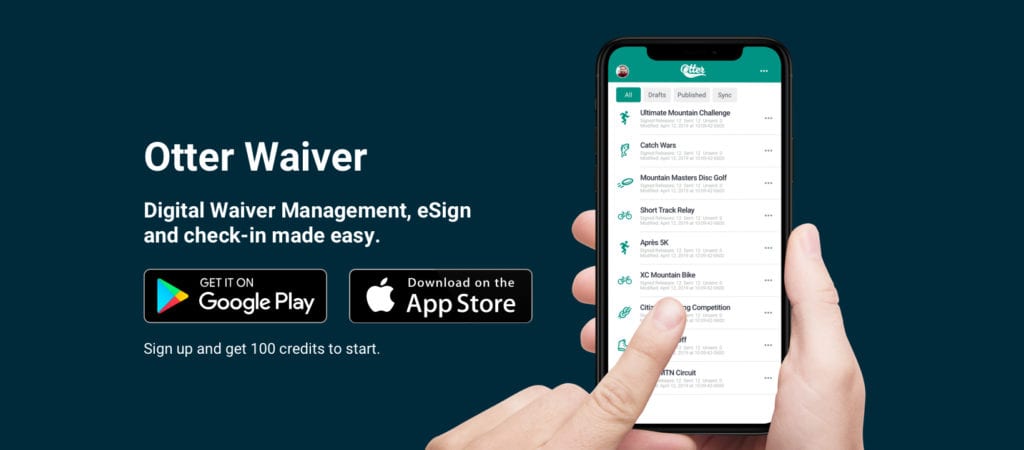 We are Here to help
Otter is here to help as businesses navigate the challenges of staying open among the COVID-19 pandemic. Our solutions for electronic activity waivers and digital health consent forms make it easy to send, scan a QR Code, and sign the documents you need for contactless screening and acknowledgement.
To learn more about The Need For Digital Waivers in The Outdoor Industry or how Otter is going to plant 1 million trees, visit our Blog.
This blog post is offered for general information purposes only. It does not constitute, and is not a substitute for, legal advice